I've completed 24 of 27 Vätterns, I know what it's like to succeed, and I know what it feels like to fall short. Temporary defeats are platforms for future victories. You just gotta remember that!
Get comfy, I'm gonna take you on a ride. This is a blow by blow account of the hardest ride I've ever done. if you're new to cycling, about to do Vätternrundan for the first time and reading this wondering if you should continue reading, or go and throw the cat out, or put the laundry on.
Remember this. When life get's easy, we get easy. When life moves against us, we move against life. Move with a smile, move with the knowledge that nothing will ever turn out exactly as you planned; and if you can keep that as your foothold, your basecamp, then you're gonna be alright. You're first Vättern will always be just that, You're first. If you're new to cycling then you have no idea what it will entail. You just have to roll with it like a ship at sea and let it take you, hoping you make it out the other side. That said. Good preparation will help. If you're not new to cycling then I hope you'll enjoy the read, perhaps some parts will ring a bell with you.
March 11th 2017: Four men converged at a ski lodge in the tiny alpine village of Falls Creek some miles to the East of Melbourne – Australia. Three of the men had met before, old school buddies, and a work colleague. Myself, I was from out of town, infact, I was from out of this hemisphere.
60 days earlier I was coming off the back of my 53rd Christmas. Spent on the day with my 5 daughters and their assorted boyfriends.
Now here I was, just 2 months later, curiously enough on the eve of the day I was told I had beaten cancer some 14 years previously and I am as far away from home as I had ever been, about to share a room with 3 large Australians, 2 of which I didn't know existed 2 months earlier.
Comfort Zone! What's that? This day was also the eve of the 3 Peaks Challenge; 235 kms , in excess of 4000 meters of climbing on gradients between 5 – 14 %.
07:04 The start: For the coming 2 minutes, a ladies voice would (apparently unaided by breath) proceed to fire off a number of traffic rules & regulations and reminders, adding at least 4 "and don't forget"'s for good measure. 2 minutes later and we were sliding down the 31km stretch of road towards Mt Beauty in an ever so slight drizzle that would see us fall from 1580 to 350 meters above sea level in just 48minutes.
A pearl band of red lights flickered and beamed in the twilit forest around us as we hurtled down switchbacks, hairpin bends and corners on roads, completely closed off for traffic bar us and the Marshalls on MC's.
One of our group, Steve, a large amiable man was off like a bullet down the hill, Patrick and my cousins husband Dave were hot on his tail as I took the more careful approach, to take in the scenery as it were*cough cough*.
In the months leading up to the ride, the nerves and intrepediation would get the better of me.  Since the night before however my nerves were still, my resolute iron. This was going to be fun. Had I forgotten already the words that echoed at the briefing the night before. Words I had said so often myself when organising big rides. "Whatever you think is going to happen, it'll be different. Be prepared that something is going to go wrong."
How quickly then was I, to be taken out of one comfort zone; and with the aid of rolling downward slopes, the swish of rubber on tarmac and the vastness of Australia in all her natural beauty  gently,  under false pretenses- lead into another. How easily seduced wasn't I.
Tawonga Gap 42km. The first climb of the day. 7.6kms Averaging 6.5%. 498m to the top.
A speed bump they said. Yes I thought, I feel strong, but hold back a little, it's going to be a long day. My legs took me over the top in 36minutes and again, the lure of an easy victory blinded this insolent fool.  There and out at 1hr39. 5 mins ahead of schedule.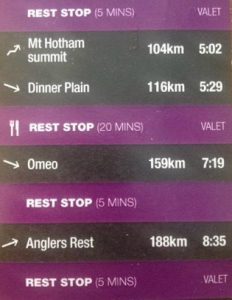 Transition between hills.  The next 32 kms took us down the back of Tawonga Gap and on to Harrietville. Here we were met by Steves family,  brothers wives, dog and cake. Daves' sister-in-law Melainie stood for the cake. Gratefully accepted. Left at 2hr48 mins. 12 mins ahead of schedule.
Mt Hotham  A slap in the face in the shape of a 12% start for what was to be 30km ascent that although (according to the stat) averaged "only" 4,2% thanks to some levelling off in mid-section, housed 'other' sections that  measured between 14 – 19%. Slap in the face again.
2hrs 09mins for the climb, I felt strong, but I also felt a slight tweak in my right leg. Cramp? Sure, it was hot, very hot, I'd drank well (I thought) topped up with plenty of sunblock +50. Neck, nose, ears, arms back and front, legs and nose again.
Mt Hotham was tough, for sure not the toughest climb I've ever done, Cippo and Passo San Marco still hold that dubious award for my part. But with Cippo and San Marco, once I did those rides (which were 40 and 15kms away to get to from basecamp) I then rolled home. I still had the back of Falls creek to battle with and the infamously named "WTF Corner"! I'm getting ahead of myself.
Mt Hotham was now under my belt. Was it now that a feeling of being sucker-punched by the whole event started to creep in under my gillet?
All 4 of us reached the Dinner Plains pretty much at the same time. My first appointment was the portaloos. Standing in line with other riders desperate to relieve themselves. I took off my gillet,  my jersey and put them in my helmet with my glasses, together with my rain (HA!!) jacket and gloves.
Next move was a drink, and fill my waterbottles with Vitargos electrolyte drink.  Replenish the lost salts and minerals. Wouldn't want to get cramp would I.
Bottles filled, and one chicken wrap hardly worthy of the name later and I was wiping salt crystals from around my eyes as we all mounted up on our carbon steeds to hit the oncoming 119kms. We had stopped at the Dinner Plains for 50 minutes. 30 minutes too long I'd say, but such was the weather. The Heat. Mount Hot Ham!
For the next 60kms we ascended from 1832 meters down to 614, only broken by the odd intervening 'speed bump' as I recorded speeds in excess of 80km/h.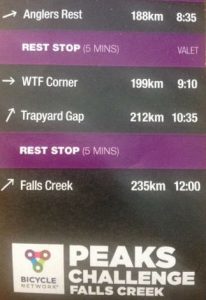 And then it happened. BANG! 58km to go and my right leg cramped up. I couldn't fend it off. I clicked out my right foot and let my leg dangle as my left one helped me along the ridge before the tiny descent to our next stop. Anglers Rest.  I looked back to see if anyone had witnessed this act of blasphemy! No one in sight, but worse than that, the realisation that I now had 60kms and one of the toughest climbs I've ever attempted still to come, and I have cramp!!
Patrick came up beside me on this section. We both complained of feet that ached like hell. Got to get the shoes off at the next stop. Steve came up and moved on past. At last the descent started and there ahead lay Anglers Rest- A quaint woodbeam lodge and watering hole set off the side of the road, with a brook running through it, crossed by a narrow wooden bridge proudly bearing the signs "Cycle eating Bridge" and "Cyclists dismount and walk".
I bought myself a $5 dollar coca cola and took out a powerbar from my pocket. What I really wanted was an icecream and a large latte with several sugars. Beggars can't be chosers huh?
Patrick waved me over, the guys were sitting on the lawn close to the brook. Bees, birds and the chatter of cyclists filled the air. Some had an empty look in their eyes. "Do I look like that to the others?" I asked myself. Patrick had taken off his shoes and that reminded me to do the same.
NOW! How do I get from up here, in this standing postion, to down there on the grass, shoes off, without screaming in pain. The answer was simple. You dont!
3 attempts later I had made it. The pain from my thigh rescinded and I could drink and enjoy the sunshine … for 17minutes. Time to head off again.
I told the guys I had no idea how this was going to pan out, I felt strong, but the cramp was holding me back. Something told me that this wasn't going to work out.
From  Anglers Rest the road rose steadily upward. My leg continually cramping. I was forced to gear down and stand up to stave off the pain, then when my arms tired I would change to a lighter gear and let my legs spin at a faster rate, till they cramped again; Repeat.
WTF CORNER:
Finally at 199km there appeared up ahead  a turn to the left in the road which was the ill-famed, aptly named "WTF Corner" and what proceeded to  be a rather typical situation.
A Steward was standing with a stop sign aimed in my direction. There were 4 cyclists standing infront of him and I stopped behind them.
"You alright there mate?" he asked
"yeah, you're holding up a stop sign, so I stopped"
Tentatively he looked up, noting the position of the sign.
"ahh yeeeah" he half mumbled appologetically  "that's for the cars behind me mate."
"Right … WTF it is then!"
Standing still into an 18% climb when you have cramp isn't optimal.
The man in the picture behind me was typical for the climb. Riders were tacking across the tarmac like sailboats, my main concern was getting past the man who took this photo and trying to look good doing it.  50 yards later and I had caught Dave, but my arms were deadly tired, I sat down and my legs seized up completely. I managed to click out my shoes and get off the bike before I fell off.
"I'll join you!" I blurted out to Dave, trying to make it sound as though I had a choice in the decision. I didn't. I'm not even sure if Dave recognised me in that moment. He looked up, looked at me, looked down, and continued walking. 10 minutes of this and my shoes were cutting into my heels. My Garmin GPS died.  I had 2hrs and 15 mins left to get to the finish. I knew I was walking at about 3,5km/h and there was over 20kms of this hill left. Just do the math!
I texted my girls:

I couldn't believe I had just written those words. So close, yet so unobtainably far away.
I kept walking, Dave was putting distance between himself and I. I needed to find a section of road that levelled off so I could try and get on the bike, perhaps if I could just get up, then I could stand in a lower gear, using different muscles than the ones that were cramping.  But such a section of road didn't exist. It just went on and on and on.
Yet there!? A bend to the left! Get far out to the right, on the apex, where it's not as steep and ride in to the corner. I walked over, set up my pedals. Took a deep breath and checked the road both ways.  Jumping up I let my left leg take my bodyweight forcing the pedal down and in cowboy style swung my right leg back and up over the saddle mounting the bike. Right foot into the pedals and both legs seized. I stopped and miraculously dismounted and stood like a statue wondering what the hell I can do to stop the pain right here, right now. My thighs were as pillars of stone.
A woman approached, perhaps in her thirties. "It's a bugger isn't it?" she said in that carefree way that I've come to understand only Aussies can do when the S**t hits the fan but what you gonna do.
"I just wish my legs would stop cramping."
"Keep moving luv, don't stop, keep moving" she urged me.
I thought of Sam and Frodo on their way to Mount Doom. There's a Mount everything else up here so why not a Mount Doom. She could't carry me like Sam carried Frodo, but her words did. I thought of Mark and Jenny, poor Jenny. Tommy from Sunne, a great buddy who passed on in a house fire. Roberto, friend and footballer who died of cancer one year after I was cleared. My sisters, my mates on the road, my relatives, my daughters … My girls …
I didn't come here not to do it. It wasn't the only reason I travelled to Australia for sure, but NOT finishing this ride wasn't one of those reasons.
Yes … yes you are right … keep going, who know's. Deep inside the outlook was bleak, but I also knew that if this was to be a challenge, and if this is what it takes, imagine beating this!! DAMN!
Are you stupid? Do the math, you're going too slow, you can't beat the deadline!!
Oh shut up … walk …
A Marshall on an MC stopped up ahead and offered a rider cola or water. I asked if I could have a cola and a tin was gratiously accepted and swallowed. The drink seemed to offer some respite. Did the last cola at Anglers Rest help, or was it the stop?
I tried one final time to get on the bike. I needed a tactic though. I knew that as soon as the first twinge of cramp started I would have a total of 3 pedal strokes more and the cramp would be full on. So gear down and stand up at the first sign of cramp.
For one minute I pedaled in my lowest gear, and then came the first twinge. I geared 4 rings down and stood up, the cramp hit me full on and for the following 6-8 pedalstrokes I was in agony but, it passed and so I stood for about 1 minute more, where upon I sat down, geared up and let my legs spin. So far, so good. One time! So far, so good. One at a time. Don't stop.
Kilometer after kilometer.  cramp attack after cramp attack, pedal stroke after pedal stroke.
Up ahead was a rider in a red cycling jersey. I think Dulwich was the name of his club.
He looked Indian but may have been Aborigini. I would have the latter.
"This is tough huh?!" I said with a look that could have been showing  a smile or pain.
"sure" he said and smiled. Bright, white teeth gleamed back at me and a glint in the eyes "But we do this, just keep pedaling. Don't stop!"
"But we are stuffed for time right? It's not possible now?" I questioned.
"Sure it's possible, another 10k's to the top, then we are practically home" just keep pedaling, keep pushing, don't stop …" …. I drifted off.  Just another 10k's?? 'Keep going, keep pushing Drover' – "huh? Nullah?" Was this my Nullah. My spirit guru guiding me in?
I snapped back to reality. If he thinks he can make it, then all I got to do is keep up with him – Right?
He accelerated slightly away from me and drifted slowly off into the road ahead. He was my marker. I stood again, fought off the cramp, the red jersey got closer, I sat and spun my legs, the red drifted further up the road. Cramp, change gear, stand get some speed up, there's the red again. Then new muscles started to seize, just above the inside of my knees!! DAMN, NO! I had to sit, and rest those muscles. My calfs, thighs, hamstrings and toes were were playing an orchestra of cramp and I had to direct them all carefully. Oh so carefully. Each one setting off the other, each one giving the other a short burst of time to rest till it was time to play their part again.
The red would get closer, then further away, but getting a little further away each time. After what seemed like an hour, the  summit came into view. A large recogniseable figure loomed standing at the side of the road ahead. "Steve! You alright?"
I never caught his answer as I went past, I couldn't stop, I daren't stop. He was smiling though, so I guessed he was ok.
Wether it was before or after the last stop I saw Steve I Don't remember, but Trapyard Gap was 23 kms from the end. I coasted the downhill section past the Gap and continued. I thought one of the Marshalls wanted to wave me in, but seemed to change her mind and clapped "Nice one mate".
Steve was at my side again. "What's the time, where's Dave?" he asked
"I'm not sure, Dave is behind, but he looked really crook, he didn't seem to have any energy." Steve took advantage of the slight downhill road, I reached for my phone. Time: 19:38 and I've gotten till 20:05 to beat the 13hour cut off. More than 10kms left. Normally not a problem on any given day. But now, with just over 10km to go, the wind picked up in my face. My Garmin GPS was dead so I had no idea of my pace and the light was fading fast and now a slight rain.
My gillet was open, I wanted to close it but that meant stopping. I ain't stopping.
19:38 — Got to catch Steve, let him know it could be done. But Steve was gone, visibility was fading fast.
As the sun dipped to the left of me behind the range, the dark clouds were lit up by a setting sun I could no longer see. I appologise to you the reader for not stopping and taking a picture. It was the most beautiful sunset I'd ever seen. Days earlier Sharon told me that sunsets are crap without clouds. I wasn't entirely sure I agreed with that. Now I just nodded my head and said "Yes". The whole countryside could have been aflame on the other side of that range. It was Mount Doom as Frodo and Sam approached.
Lights flickered up ahead, the sky got darker and darker, I was getting up quite a pace now, was adrenalin helping me overcome the pain? No more hills please. Give me that.
The road lit up from behind, a car was shadowing me, but giving me well needed light. What time is it? I wanted to take my glasses off and put them into my helmet. But these were newly acquired, custom built, Oakely Jawbreakers and it was windy. NO WAY!
The car overtook, and then braked! It veered to the right. The road was split by cones.
Cars right, cyclists left! said the signs.
Am I close? A Car park, that's where we parked, but that's close, surely that's close … A bend to the left, What's the time? Suddenly I was met by spectators, noise, buildings, lights, cheers, applause?
I don't get it, do they cheer you even if you've missed the cut-off time?
I turned left into the final straight of 50 meters. The clock above the finish. That's not possible? I don't get it. A ladies voice boomed out
"Number 1114 Gary Fleming – 12 hours, 48minutes and 19!"
My iPhone was 15mins fast.
I choked on tears after the finish. Shook from the cold, or the exhaustion, or both.
The hot wrap had me wanting to throw up. The fruitjuice was good, the cider, nah.  The shower and the plate of chips were just what I needed. Adding a latte and I was ready for bed. The next challenge? Getting through the night without waking up in agony from a cramp attack!